England batsman Kevin Pietersen was fined an undisclosed amount by the England and Wales Cricket Board (ECB) on Wednesday for disparaging comments he made on Twitter about a television pundit.
The South African-born batsman has more than 600,000 followers on the social media site and has used the platform to deride the same commentator, former England opener Nick Knight, twice in the last year.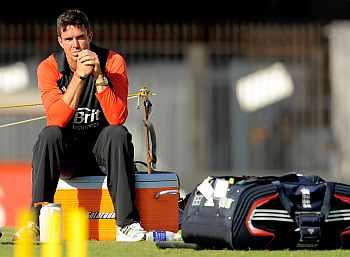 Pietersen was summoned to a disciplinary hearing with ECB chief Hugh Morris and England coach Andy Flower on Wednesday, where the fine was handed down.
"The hearing considered recent comments made by Pietersen on Twitter to be prejudicial to the interests of the ECB and a breach of the England player conditions of employment in relation to clauses regarding public statements," the ECB said in a statement.
"Pietersen has been fined an undisclosed sum, part of which has been suspended for 12 months, in accordance with the terms and conditions of his England central contract."
Pietersen's laTest comment came during the first Test against West Indies at Lords, which England won by five wickets on Monday.
"Can somebody PLEASE tell me how Nick Knight has worked his way into the commentary box for Home Tests?? RIDICULOUS!!," he tweeted (twitter.com/#!/kevinpp24).
The second Test begins at Trent Bridge, Nottingham on Friday.