The Pakistan Cricket Board (PCB) has suspended the central contracts of Salman Butt [ Images ], Mohammad Amir and Mohammad Asif [ Images ] while they are being investigated for alleged spot-fixing during the recent tour to England [ Images ].
A senior PCB official said the contracts were suspended in line with the International Cricket Council's [ Images ] (ICC [ Images ]) anti-corruption code.
Butt and Amir's appeals against indefinite suspensions were rejected by the ICC last week.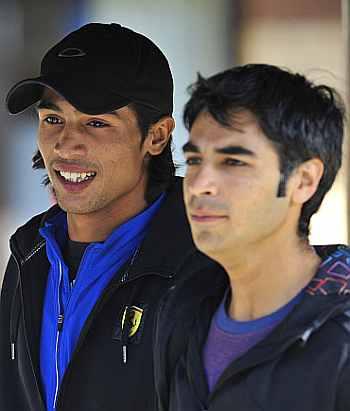 "Their contracts were active until the appeal hearing but once their initial appeals were rejected under the ICC code we can't keep them on contracts," the PCB's Zakir Khan said.
PCB legal advisor Tafazzul Rizvi said the contracts were suspended because the players were not eligible to play for Pakistan.
"We only give contracts to players who can play for Pakistan. Until their cases are decided... they can't get any benefits from the board in terms of contracts," he said.
The PCB pays a monthly salary of about 250,000 rupees ($3,000) to players in the top grade, which included the suspended trio. Rizvi said the board had stopped paying test captain Butt and pace bowlers Amir and Asif.
Amir's lawyer Shahid Karim said that under the ICC code of conduct the sport's governing body had to decide by December 2 whether to remove or retain the suspensions on the players.