The Pakistan Cricket Board has instructed its national team players to send back their family members after suffering successive defeats in the Test series in South Africa.
Clinical SA beat Pakistan by 4 wickets to seal series
Inzamam calls on Pakistan to bat positively
Pakistan hindered by lack of home Tests: Misbah
According to a report in the Daily Express newspaper, the PCB has issued instructions that the families of some seven to eight players, who are in South Africa, should return home by February 26.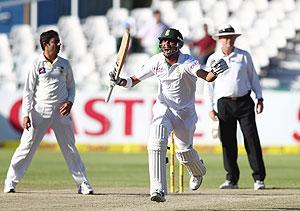 The board had apparently allowed the players and coach Dav Whatmore to take their families to South Africa at the start of the series.
The report said after the two successive defeats, the board is having second thoughts and believes the presence of family members is distracting the players.
The report added that while Whatmore's wife had returned home a few days back, the players have been told their families must return at the earliest.
"The feeling is that having their families at the start of the tour the players instead of focusing on their game must have spent time worrying about their families and family issues," the report said.
In the past also such issues have been highlighted after a bad performance by the team and the debate over allowing families to go on tour with players still remains a subject of discussion in the Pakistan cricket community.
Former players have roundly criticised the team and management for the performances in South Africa.
Photograph: Shaun Roy/Gallo Images/Getty Images