The Pakistan Cricket Board was on Tuesday forced to issue a clarification after off-spinner Saeed Ajmal got embroiled in an unwanted controversy over his bowling action following his interview to a British newspaper.
Ajmal, who finished with 24 wickets in the 3-0 whitewash of England in the three-match Test series, got entangled in the controversy after a British newspaper said that Ajmal had claimed that the ICC had given him special dispensation to straighten his arm beyond the allowed 15 degrees for bowlers.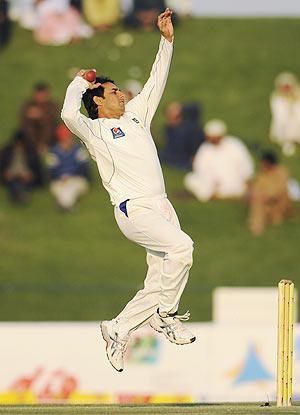 The offspinner reportedly told the newspaper that the ICC has allowed him extra leniency, up to 23.5 degrees.
"I don't know about my bowling action, but somebody was telling me your action is bad. ICC has allowed me 23.5 because my arm is not good because of an accident, that is why a problem," Ajmal was quoted as saying in the report.
But the Pakistan team manager, Naveed Cheema in a statement insisted that Ajmal had been misunderstood.
He said Ajmal had been referring to his elbow extension and not his arm.
"Ajmal was referring to the angle of elbow abduction i.e. the angle of the upper arm to the forearm and not the degree of elbow extension. This angle is approximately 23 degrees in Ajmal's case," Cheema said in the PCB statement.
"The ICC's level of tolerance of 15 degrees relates to the degree of elbow extension that is permitted in the bowling action i.e. the amount by which the arm is straightening," it added.
The PCB said the previous tests conducted on the action of Ajmal showed that the degree of elbow extension is well within ICC's tolerance levels.
ICC general manager cricket David Richardson also backed the PCB's stance.
"There is a big difference between the elbow carry angle (elbow abduction) and the degree of elbow extension. There is nothing preventing a bowler bowling with a bent arm, provided he does not straighten it beyond the permitted degrees of tolerance," said Richardson.
Ajmal's bowling action was reported in 2009 but he resumed his international career after it was cleared by ICC experts and biomechanical tests.
After the first Test against England, former fast bowler Bob Willis and a section of the English media once again raised issues over Ajmal's action but the matter died down.
Former Pakistan captain Rashid Latif said there was a need for the team management to be selective while allowing the players to give media interviews and statements.
"I think Ajmal should be kept away from the media as much as possible. They are always communication problems when players interact with the western media without any guidance," he said.