Captain Virat Kohli and Head coach Ravi Shastri wax eloquent about the team's new-found star all-rounder Hardik Pandya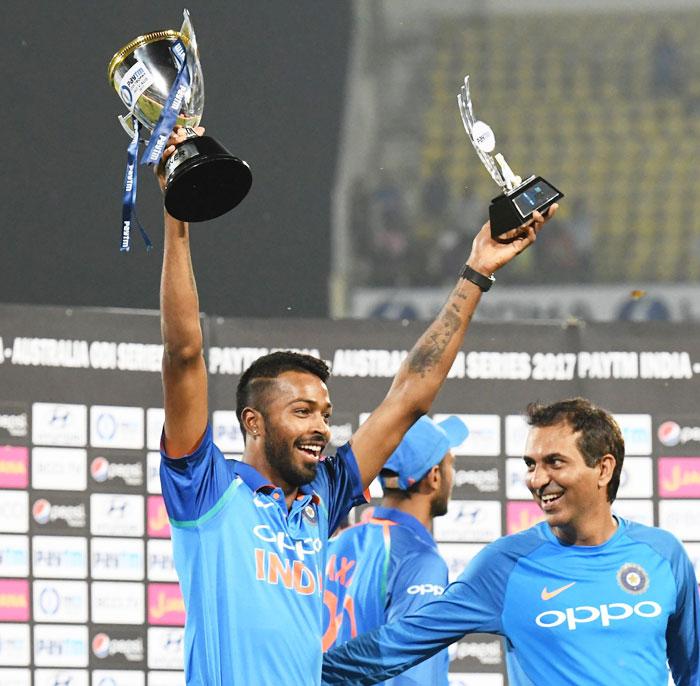 IMAGE: India's Hardik Pandya holds aloft his man-of-the-series trophy and the team trophy after the presentation ceremony in Nagpur on Sunday. Photograph: Gurinder Osan/PTI
India captain Virat Kohli feels man-of-the-series Hardik Pandya has emerged as the "biggest asset" for the team after their convincing 4-1 win in the five-match series against Australia.
Kohli had special praise for all-rounder Pandya, who scored 222 runs with the bat and also picked up six wickets to emerge as the player-of-the-tournament.
"Hardik Pandya is the biggest asset (from the series). Selection dilemma is always a good headache for me as a captain because it's always better to have plenty to pick from and take the best 11 possible," the skipper said.
India's chief coach Ravi Shastri, whose decision to elevate Hardik Pandya to number four in the batting order proved to be a master-stroke, reckons that the Baroda all-rounder has the ability to clear any ground in the world with his power-packed strokes.
It was on Shastri's insistence that Pandya was promoted at No 4 in the third ODI in Indore, where he scored 78 in a winning cause. In the next game, he scored 41 in India's lone loss in the series.
Asked about the inspirational move, Shastri said: "He (Hardik) is a dangerous guy. He can be a floater in the batting order -- tremendous striker of the ball, especially when he hits spinners. I have not seen too many players strike against spinners like that. Yuvraj Singh in his hey days may be. This guy can clear any ground in the world, be it second ball, third ball. It's the exuberance of youth."
Player-of-the-tournament Pandya himself said there is a long way to go for him.
"There's always scope of improvement in everything I do. I always believe I can improve day by day. Working hard on my fitness, to be fit for every game, because it's not easy to do both skills," he said.
"The situation I batted this time was different from what I've been used to, so I've learned a lot, and a pleasure playing against Australia."