Pakistan took an unassailable 3-0 lead in their five match one-day international against the West Indies after winning the third ODI by three wickets at the Kensington Oval on Thursday.
A rain delay reduced the match to 45 overs per team, and the West Indies, batting first, once again failed to build on a decent start, ending up with just 171 all out from 43.4 overs.
Pakistan were in trouble early in their reply when they slumped to 12-3 as Ravi Rampaul produced a superb opening spell, but a calming 62 not out from Misbah-ul-Haq saw the tourists home with almost five overs to spare.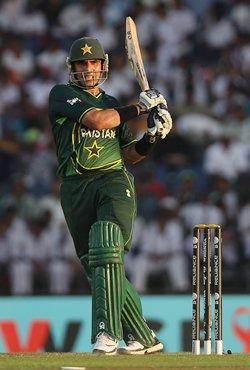 It was a familar story with the bat for West Indies, with Lendl Simmons picking his second half-century of the series but getting out to a return catch by Saeed Ajmal right after reaching the landmark.
Left-hander Darren Bravo also showed promise with a patient 47 from 77 balls but yet again the Carribbean team's middle order folded.
Brother Dwayne Bravo got out to a poor shot, failing to deal with a rising ball, and skipper Darren Sammy's disappointing form continued as he was caught by Shehzad attempting a poor slog off Riaz.
Riaz and Ajmal finished with three wickets apiece after another good Pakistani performance with the ball.
West Indies needed early wickets to have any realistic chance and they got exactly that from Rampaul who picked up Mohammad Hafeez (5) and Ahmed Shehzad and Asad Shafiq for ducks with a spell of lively pace and bounce.
But Umar Akmal (30) steadied the ship before a fifth wicket partnership of 78 from Hammas Azam (36) and Misbah pushed Pakistan towards their target.
There was time though for a twist in the tale as West Indies' promising leg-spinner Devendra Bishoo picked up three wickets to apply some late pressure with Pakistan at 148 for seven.
Misbah, widely criticised for his slow batting display in the World Cup defeat to India, showed his value as a calm and intelligent middle order presence as, together with Riaz, he saw them safely reach their target.
Riaz finished off the proceedings with two big sixes but it was his senior partner who rightly won the plaudits.
"There was a bit more bounce and pace in there than we were used to. I knew I had to bat through to the end," said Misbah, while skipper Shahid Afridi hinted that there could be some squad rotation for the final two games of the series.
Sammy acknowledged that once more West Indies simply didn't set a strong enough target.
"As a batting unit, myself included we have to take responsibility in the way that Rampaul and Bishoo did for us with the ball.
"We just didn't get enough runs. We've had good starts but we just haven't capitalised on them, we need to be able to rotate the strike in those middle twenty overs," he said.
Scorecard
West Indies:
L. Simmons c & b Saeed Ajmal 51
D. Smith lbw b Mohammad Hafeez 0
D.M.Bravo lbw b Mohammad Hafeez 47
M. Samuels b Junaid Khan 18
K. Edwards run out 18
D.J.Bravo c Ahmed Shehzad b Wahab Riaz 11
D. Sammy c Ahmed Shehzad b Wahab Riaz 3
A. Russell st Mohammad Salman b Saeed Ajmal 3
K. Roach c Misbah-ul-Haq b Wahab Riaz 0
R. Rampaul not out 9
D. Bishoo c Wahab Riaz b Saeed Ajmal 0
Extras: (b 1, lb 6, w 3, nb 1) 11.
Total: (all out; 43.4 overs) 171
Fall of wickets: 1-6, 2-92, 3-118, 4-131, 5-150, 6-158, 7-158, 8-161, 9-162, 10-171.
Bowling: Junaid Khan 7-0-31-1, Mohammad Hafeez 9-0-31-2, Shahid Afridi 9-2-25-0 (1w), Wahab Riaz 8-1-38-3 (1nb, 2w), Saeed Ajmal 8.4-0-29-3, Hammad Azam 2-0-10-0.
Pakistan:
Mohammad Hafeez c Bishoo b Rampaul 5
Ahmed Shehzad c Simmons b Rampaul 0
Asad Shafiq c Sammy b Rampaul 0
Misbah-ul-Haq not out 62
Umar Akmal c Simmons b Rampaul 30
Hammad Azam lbw b Bishoo 36
Shahid Afridi c Smith b Bishoo 11
Mohammad Salman b Bishoo 3
Wahab Riaz not out 17.
Extras: (b 2, w 10, nb 1) 13.
Total: (for seven wickets; 40.1 overs) 177
Did not bat: Junaid Khan, Saeed Ajmal
Fall of wickets: 1-9, 2-9, 3-12, 4-49, 5-127, 6-143, 7-148.
Bowling: K. Roach 9-0-36-0 (2w), R. Rampaul 9-0-32-4, A. Russell 4-0-23-0 (1nb, 1w), D. Bishoo 9-0-42-3, D.J. Bravo 7.1-0-31-0 (3w), D. Sammy 2-0-11-0.
Pakistan lead the five-match series 3-0.