Former Pakistan captain Younis Khan has heaped praise on Junaid Khan, saying the young left-arm pacer has the traits of becoming someone like legendary seamer Wasim Akram.
The 23-year-old pacer had left India in tatters reducing them to 29 for five to set up Pakistan's six-wicket win in Ahmedabad and take a 1-0 lead in the three-ODI series.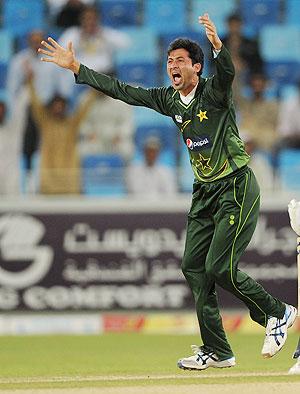 "Good to see him the way he's performing consistently, it's a good sign for him and the team. If he keeps on doing that then we will find another great left arm fast-bowler of Wasim Akram type," he said.
"Junaid is keen and not living in the past. He's living in the present and trying to improve. It's a good sign for Pakistani team," the veteran of 79 Test and 246 ODIs said.
The ODI series marked a surprise return for Younis and the 35-year-old said there was no added pressure on him to perform at the Motera, even as he had a forgettable calendar in 2012 with 167 runs from 10 ODIs.
"There's no pressure even before the 1st ODI. It was my comeback match but there was no pressure that if I don't score I would not play the next game," Younis, who scored a 58 in his comeback match, added.
"I always try and improve my game to a level so that I can tell youngsters how to play."
Younis has two centuries from two Test matches at the Eden Gardens and he hopes to do an encore in the ODI as well.
"Allah karay aur eik century karoon. But I hope I play an innings that will help Pakistan seal the series," he said.
The senior pro said the team was backing the youngsters.
"When youngsters come in team they try to perform. So we don't have big names but when a youngster gets a chance for a India-Pakistan match, they try and achieve something," he said.
"I always try to guide the youngsters. We all believe in sharing. Good teams are those who share good and bad times."