Adapting to the new rules in One-Day Internationals will be "very difficult" for both the bowlers and captain at the beginning of a match, Pakistan skipper Misbah-ul-Haq said in Chennai on Saturday.
"It is a very difficult scenario. At the beginning, both for the bowlers and the captain, it will be difficult to adapt because for a long time, this (the old) format has been in vogue," Misbah said on the eve of the first ODI against India.
Under the new rules, one new ball will be used at each end, bowlers will be allowed two bouncers an over, there will be no batting Powerplay, the bowling Powerplay will have to be completed before the 40th over, and at no stage in the innings will more than four fielders be allowed outside the 30-yard circle.
"To adapt will be difficult, there will be changes in the game -– the way the batsmen play, the tactics of the bowlers and slowly, bowlers, batsmen and captains will come to grip with it. But at the start, it will definitely be difficult for everyone concerned," Misbah added.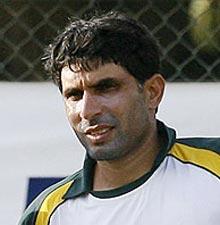 The match between the two neighbours will be the first occasion when the new rules are implemented.
Misbah said his side will have to play positive cricket if they are to shock the World champions in their own backyard.
    
"One thing we thought before coming here is that we have to play good positive cricket. It has been apparent during the T20s that for the first time, the Pakistan team is playing without pressure.
"Hopefully, we will play the same way in the ODIs, be it in batting or bowling, play with the same kind of aggression."
About playing in this cricket-crazy country, he said the Pakistan team has always enjoyed the "thrill" of playing in India.
"It is always good to play in India, in whatever part we are playing, because the people here really love watching cricket and specially India-Pakistan, we have always enjoyed the thrill, the people's interest.It is good to play in an atmosphere like that."
The Pakistan skipper also acknowledged that veteran Sachin Tendulkar, who recently announced his retirement from ODIs, will be sorely missed in the forthcoming three-match series.
"I think without Sachin (Tendulkar)... everybody misses him, especially the Indian team because he is such a legend and he has performed so well over the years. 49 centuries in this particular format...I think Indian team is going to miss him," he said.
On the importance of having senior players like Younis Khan in the team for such a high profile series, he said, "They are pressure games and Younis Khan is the guy who has always performed well against India. He knows what sort of demands there are when playing against India, playing in India.
"He can just convey those to the younger players and they can benefit from that. I think seniors can just perform with the bat and also give advice others. It's always good to have senior players.
According to Misbah, aggression has to come out through performance rather than just gestures.
"I think I have always maintained that your aggression should come out through your performance. There is no point in saying anything. Our bat and ball must do the talking. That is the message about your aggression. If you talk and don't perform, then there is no use of aggression.
"My message to all the players is to focus on your performance. If you have to show aggression, do it by bowling at 140-150, or by playing good strokes and making a big score, take a good catch or make a good run out."
Misbah also rates the Indo-Pak series bigger than the high-profile Ashes series played between England and Australia.
"I think everybody knows the importance of this series. It is really a big series, the followers of this series are more than the Ashes series. It is always tough when you play after such a long time and that's why I keep saying these series should be played on regular basis. After these T20s games, everybody can see how important these matches are between India and Pakistan for world cricket."