Pakistan captain Mohammad Hafeez on Monday said that his team has a good mixture of fast and spin bowlers who can pose questions to the Indian batsmen in the forthcoming limited overs series, starting with the first Twenty20 International in Bangalore, on Tuesday.
"The Indian batting is well known all over the world being extremely good. But winning or losing does not depend only on batting. Bowling will also have a major role. When we see our team, both batting and bowling is very good. So, our bowlers can negotiate the strong Indian batting line-up," Hafeez said in Bangalore.
Hafeez said the selectors wanted to give opportunities to youngsters who have done well in the last couple of years at the domestic level.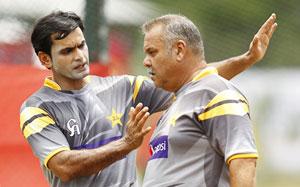 "It will be a good experience for them in India because the crowds are always good. So the pressure is always there, but you have to handle it. Our team is a mix of both experience and youth. We have Shahid Afridi, Shoaib Malik, Umar Akmal. It is a mixture of seniors and juniors," he said.
The Pakistani skipper is banking on off-spinner Saeed Ajmal, who has been in good form, to work his magic for the visitors.
"We want him to stay at the peak. We don't want to put too much pressure on him. At the same time, other bowlers also have to do and take wickets to give confidence to him," he said.
On Afridi's poor run with the bat, Hafeez said there is no doubt that in the recent past he has not done well, but added that he is still a match winner. "I being the captain, would love to see good performance from him," he said.
On the pressure factor, Hafeez said all international matches have an element of pressure, and players have to soak it up because expectations are high.
"We will try our level best to play without pressure," he said.