A day after calling off his visit to the capital in the wake of a controversy over the Indian government giving him visa, former Pakistan captain Javed Miandad on Saturday said that he should be seen just as a sportsman and not as a relative of underworld don Dawood Ibrahim.
Miandad not on India's negative list, says govt
Miandad cancels India trip following visa row
Miandad, who was to watch the third and final ODI in Delhi on Sunday, cancelled his visit to avoid further controversy.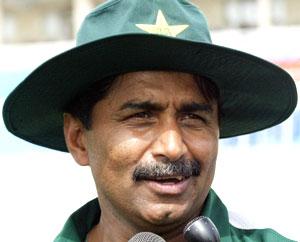 "I should be seen just as a cricketer, a sportsperson. Being related to somebody does not mean anything. What is the problem in me getting a visa (to be in India)?" Miandad asked.
"I am busy in Pakistan and the thing is that Pakistan has won the series. All of his (Dawood's) family is in India, their brothers and sisters are in India. I don't know why they were targeting me. May be because I am popular," said the former captain.
Miandad, however, felt that cricket ties between India and Pakistan should continue.
"I have played cricket, have worked for PCB and I want good relations between India and Pakistan. I want cricket ties to continue between India and Pakistan," he told CNN-IBN.
Ever since news came out that Miandad, whose son Junaid is married to Dawood's daughter Mahrukh since 2005, a controversy broke out in India over the government giving him visa for the visit.
The Indian government, however, justified the decision saying Miandad was not on the 'negative list' of those not to be given visas.
BJP and Shiv Sena had lashed out at the government for granting visa to Miandad, asking how allowing a person related to Dawood would help improve bilateral ties.