India captain Mahendra Singh rates the visiting Pakistani side, especially its bowling, quite high but believes that the side which performs consistently will emerge as the winners in the three-match One-Day International series, beginning in Chennai, on Sunday.
"Overall, Pakistan is a very good team. Its combination is such that they have specialist bowlers and have five bowlers for a match. In a way I feel they have a complete bowling attack and they have experienced batsmen who can bat well in any conditions. The specialist spinners are also performing well," Dhoni said on Saturday.
- Rain could play spoilsport in India-Pak ODI in Chennai
"When it is compared to Indian team it is a very balanced side with talented players. Overall, which ever the team bats and bowls well for a long period of time will turn out to be well," Dhoni added.
Dwelling on Sachin Tendulkar's retirement from ODIs, Dhoni said his immense experience will be missed but at the same time the youngsters will get a chance to showcase their talent.
"If you look at the last one year or so, he has been picking and choosing ODI matches to play. Yes, We are missing him a lot. He has such experience and he always leaves a solid impact on the minds of the youngsters in the team in the dressing room. We all miss that. Also, when we look at important series afresh, youngsters need to get chances and perform well," he said.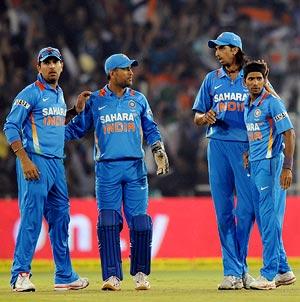 Dhoni also made it clear that he is not a big fan of the new rules introduced in the ODIs format.
"I am not very happy with the rules. I feel that lot of changes in ODI has been brought in when lot of people talk about Test cricket and experiments made in T20," he said.
Asked for comment on the new rule that two bouncers could be bowled in a over, he said," Once we get fast bowlers like Umesh Yadav we will try to use it. As of now we will keep that in our pocket."
Talking about the media criticism after the Bangalore T20 defeat, Dhoni said, "It is not in our control. It is important that we attend to our job as to what we need to do on field."
However, he backed his young bowling attack saying they need to be given time to prove their worth.
"We have few young bowlers and it is difficult for them to bowl in dew factors and adapt to the changes in rules of the game. All these are to be taken in to account and we will have to back them as at the end of the day they are the ones you see in the future games."
"We will have to give them fare amount of chances and see what set of talents that they have got and it will happen once they play few games at international levels. Domestic is quite different from international standards. They require more exposure and spend more time at the top level."
Asked about Pakistan's new pace sensation, Mohammad Irfan, he said, "He is a bit different. You can say that he is about one foot different to some of our bowlers. He gets lot of bounce and bowls at decent pace. We have to watch out for him. We have not seen much of him."
Dhoni also paid tribute to former English cricketer Tony Greig, who died at the age of 66 after suffering a heart attack at his Sydney home.
"I did not have much chance to interact with him. I always used to hear to his comments right from the time I started following cricket, not to forget the instances when Sourav Ganguly and Sachin Tendulkar batted. He always used to make us feel as if we are watching the matches live at the stadium. He was really exciting. We'll all miss him and that is for sure.
Photograph: BCCI