Forced to stay out of cricket for quite some time now because of spot-fixing allegations, tainted Pakistan pacer Mohammad Amir has described the International Cricket Council's suspension as a grave "injustice".
"Suspending us without showing any worthwhile evidence and then retaining that suspension is injustice," Amir told the Duniya news channel.
Amir, along with, former Test captain Salman Butt and pace colleague Mohammad Asif was provisionally suspended by the ICC on September 2 after the News of the World tabloid carried a report that alleged bookie Mazhar Majeed had bribed them to spot-fix in the fourth Test against England at Lord's.
The trio then appealed with the ICC against their suspensions with Asif later withdrawing his appeal.
Butt and Aamir appeared before a one-man appellate tribunal in Dubai last month which dismissed their appeals.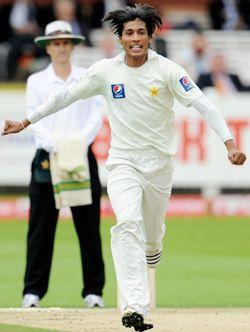 Amir said that the experience of appearing before the appellate tribunal had been a hugely disappointing one.
"No evidence was shown to us. Our lawyers gave strong arguments in favour of lifting the suspensions, but they (ICC) ignored it," he said.
Amir claimed that under ICC's anti-corruption regulations if the game's governing body fails to produce any evidence against the trio by next month then their suspensions would be removed automatically.
The 19-year-old left-arm pacer said it is a frustrating wait for the trio as it has been more than two months since the ICC had enforced the suspension on them but till now failed to set a date for the full hearing.
Interestingly, sources in the Pakistan Cricket Board said on Friday that the ICC had finally constituted a three-member tribunal that would hold the full hearing into the allegations against the players between January 3 to 11 next year.
Amir also claimed that the video footage of the players with Majeed proved nothing and could not be considered as an evidence.
He also claimed that Scotland Yard in its initial two reports given to the Crown Prosecutor's Office in London had not been able to produce any substantial evidence and had now submitted a third file.
Amir also felt that the PCB after supporting the players initially had gone on the backfoot.
He expressed confidence that the trio would be cleared before the 2011 World Cup in the sub-continent.
"Missing the World Cup would be a disaster for someone like me. But I know I am innocent and my conscience is clear and my lawyers are also working hard on my case.
"The ICC has to decide before the World Cup on our case. That is why I feel I will be able to play in the tournament," Amir said.
The promising pacer said that even though he did not play a single competitive game since the suspension, he is carrying out his individual training on daily basis.
"I want to be ready when the time comes for my comeback," Amir said.
"I have had a lot of good things to see in my cricketing career. Now I am going through this bad phase but one has to cope with both situations and I am doing that. I am just grateful that my family and friends are supporting me a lot," he added.