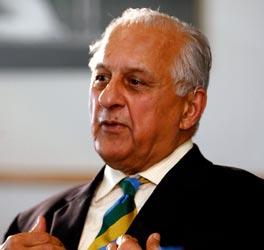 Pakistan's Prime Minister has appointed an interim management committee (IMC) to supersede the Pakistan Cricket Board in order to reorganise the country's cricket structure.

The IMC will be headed by Najam Sethi and includes former PCB chairman Shaharyar Khan and former Test captain Zaheer Abbas, ex-player Haroon Rasheed and former national team manager
Naveed Cheema.

Prime Minister Nawaz Sharif made the decision in view of the current constitutional and legal issues surrounding the PCB.

"The IMC will be in force for 90 days and will be responsible for performing day-to-day domestic and international functions for the promotion of the game in line with the directions of the Court," the government said in a statement.
This is not the first time that the PCB has been superseded by an interim or ad hoc committee but the inclusion of some Pakistani cricket stalwarts in the interim committee is an indication that the Prime Minister is serious about re-organizing cricket and Board affairs.
Khan was chairman of the Board between 2003 and 2006 while Abbas is a former Test captain and Haroon Rasheed a former Test player who has held several important positions in the PCB including that of chief selector, manager, coach and administration.
Naveed Cheema was manager of the national team until recently.
Image: Shaharyar Khan
Photograph: Tom Shaw/Getty Images