The Pakistan Cricket Board (PCB) chairman has spoken to Zulqarnain Haider and assured him of its full co-operation after the wicketkeeper left the squad in Dubai and went to London where he has applied for asylum.
Zulqarnain said PCB chief Ijaz Butt had spoken to him by telephone to find out the circumstances surrounding his sudden departure from the team hotel.
"I explained everything to him. I told him I was genuinely concerned about the threats given to me for not getting involved in any racket to fix matches in the One-Day series against South Africa," Zulqarnain told Geo News on Thursday.
"I have told the PCB chairman everything and he has assured me that the board will provide me all assistance and cooperation," the keeper said.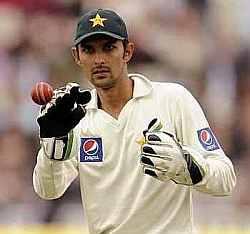 The PCB had been trying to make contact with Zulqarnain since Monday when he arrived in London and on Wednesday it suspended his contract pending further investigation into the incident.
Zulqarnain, 24, said he had applied for asylum in Britain after much thought.
"I am not stupid that I should give up my promising cricket career and leave my country to come to London. I did it for a reason and I feel safe in London," he said.
HANDED OVER
He also said he had handed over two letters delivered to his room in Dubai to the International Cricket Council's (ICC) Anti-Corruption Unit (ACU).
Pakistan's High Commissioner in the United Kingdom, Wajid Shamsul Hasan, met Zulqarnain on Thursday, telling reporters he has listened to the player and that the embassy would provide legal assistance where it is required.
Zulqarnain said he is seeking asylum because he fears for his safety after being ordered to co-operate with match-fixers.
He also announced his international retirement after saying he was approached by a person who asked him to fix the recent fourth and fifth One-Day Internationals against South Africa.
Zulqarnain dismissed Pakistani media reports that he has taken money to flee the team.
"Anyone can check my accounts to see what my financial position is. I don't regret my decision. The same people who are trying to corrupt cricket are now trying to create this scandal about me taking money," he said.
The wicketkeeper said he has no immediate plans to return to Pakistan because he fears for his life.
"When a prime minister like Benazir Bhutto could not be safe in Pakistan I am just an ordinary cricketer," he said.
Bhutto was assassinated in Rawalpindi in 2007.
Zulqarnain also said he is happy that the ACU and British border and home officials are co-operating with him.
"I will not hold anything back from them," he said.