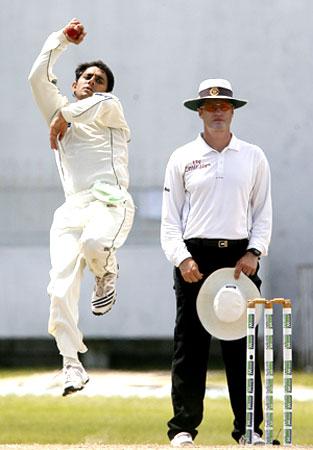 With reports suggesting that the pitch at the Melbourne Cricket Ground (MCG) will offer some help for the spinners, Pakistan are mulling over the option of playing two spinners in the first Test against Australia, starting December 26.
The final decision regarding the team's build-up will be taken in the next couple of days, but team officials have not ruled out including both leg-spinner Danish Kaneria and off-spinner Saeed Ajmal in the final eleven for the Boxing Day Test.
"Playing (in the first Test) with two spinners is certainly an option for us," The News quoted Pakistan team manager Abdul Raqeeb, as saying.
"Both Danish and Saeed have been bowling well. And the fact that Australia faced a few problems against West Indian spinners recently has made us think about having two spinners in the playing eleven," he added.
Kaneria, who is Pakistan's most successful spinner with 245 wickets from 56 Tests, is almost certain to play in Melbourne after taking 13 wickets in two Tests during the just-concluded three match Test series against New Zealand.
Meanwhile, MCG pitch curator Cameron Hodgkins has said that he is hopeful about striking the right balance between bat and ball for the first Test.
Hodgkins predicted that the pitch would not be too batsman-friendly, which has been the nature in matches at the MCG so far this season.
 "So far there's been good pace and carry and the good bowlers are getting wickets. In the last game there was plenty of grass, but the only ingredient missing was there wasn't much nibble," Hodgkins said.
'Doosra essential to survive'
Meanwhile, Ajmal feels having a doosra in your bag of tricks is essential for any spinner to survive in international cricket these days.
The three-day tour match at Bellerive Oval ended in a draw on Monday with Pakistan 4-141 in their second innings, a lead of 385. Tasmania was dismissed for 193 in reply to the tourists' first-innings 437. Ajmal took four wickets, his three-finger doosra claiming the scalp of Tigers captain George Bailey.
Ajmal says his doosra - a delivery that spins away from a right-handed batsman even though it is delivered with an off spinner's action - is modelled on the action of the ball's pioneer, his countryman Saqlain Mushtaq.
''In these times, Test scoring is very fast,'' he said. "Ten years ago, Tests were slow and easy all-day batting for about 210 runs. But these days it's over 300 runs in a day. So, if you have any variety (as a bowler) you can survive. If do not have variety you cannot survive in international cricket," he added.