Pakistan-born Australian batsman Usman Khawaja on Tuesday claimed that his visa for travelling to India to participate in next month's Champions League T20 was held up because of his country of birth.
Twenty-four-year-old Khawaja, who has lived in Australia since he was three, travels on an Australian passport and has been to India before.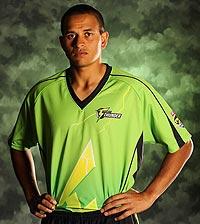 Khawaja said he was denied by the Indian High Commission in Australia to obtain a visa to play for New South Wales Blues in the Champions League Twenty20 in India next month.
"Indian Visa department need to sort their issues out. Refusing to let me travel to India as an Australian, because I wasn't born here. Wow," Khawaja tweeted.
NSW officials are hopeful that the matter would be sorted out by Wednesday and Khwaja would get his visa, according to his manager Daniel Zammit.
Khawaja, who became the first South Asian to play Test for Australia when he was picked for the final Ashes match against England at the SCG in January, is on the 20-man long list for the NSW T20 side, of which 15 will ultimately represent the team.
He is set to join the rest of the Australian squad later this month for the three-Test series in Sri Lanka.