India [ Images ] might have won the third Test against New Zealand [ Images ] by an innings and 198 runs but captain Mahendra Singh Dhoni [ Images ] on Tuesday said that the team didn't perform to their full potential in the three-match series.
"I would say we have performed 60 per cent of what we are capable of in this particular Test match. It may be for whatever reason. About the first two Test matches, we could only play upto 40 percent of our potential," the Indian captain said at the post-match media conference.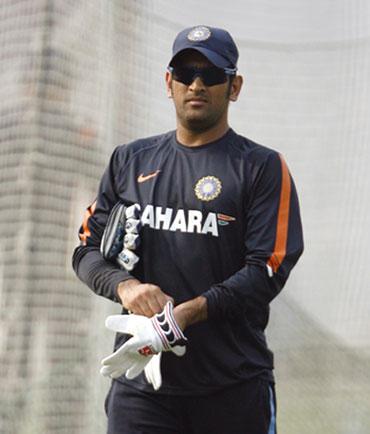 However, the skipper once again came in defence of an out-of-form Suresh Raina [ Images ] terming the player's bad patch as a result of being "mentally" exhausted having played a lot of cricket for last six months.
"Raina has been consistently playing for long period of time. Even I got a break during the tour of Zimbabwe but he also played there. Luckily, I have got a break of 10-15 days now which will help to freshen up and prepare for the South Africa [ Images ] series. 
"But he hasn't got a break even in the first two matches of the New Zealand ODI series. There are times when it's more of a mental aspect than a physical one of not being 100 per cent there," Dhoni said, while backing the talented Uttar Pradesh [ Images ] youngster who has only scored 26 runs in four innings. 
Asked if the Indian board could rest five seniors (Dhoni, Sachin Tendulkar [ Images ], Virender Sehwag [ Images ], Zaheer Khan [ Images ] and Harbhajan Singh [ Images ]), why couldn't they take risk of resting a sixth player, the skipper presented a dead bat. 
"That's not for me to answer. It's better if you ask the BCCI. I only hope that he gets a chance to rest in the last three ODIs. He is an important player in our line-up and also our main fielder. So day in and day out when you are playing, you tend to get exhausted and more so mentally. A break would do him good," he said.
Dhoni was all praise for man-of-the-match Rahul Dravid [ Images ] and Ishant Sharma [ Images ] who took seven wickets in the match. 
"Of course it's big positive that Ishant bowled so well here. If you have more bowlers doing well then it gives you more options. Similarly in batting, it's Rahul and Sachin who bring in the stability in the middle order. 
"Rahul is an important player in the line-up as you require someone like him after Viru gives you that momentum. This helps the batsmen coming lower down the order much more confidence," he said. 
About the pitch, he termed it as a "typical Indian wicket where the surface is dry and there was turn." Dhoni also praised his bowlers but singled out Ishant Sharma for his brilliant three-wicket haul. 
"I think the way the fast bowlers bowled on the first day was remarkable, there wasn't much in the wicket for them then
but they still got the wickets, and they were backed up by the spinners.
"Ishant was very good. He was not in the team. So he was fresh. He stepped up to the occassion, hit the right length and took wickets," he said. Dhoni also didn't gloss over their fielding lapses and said this is an area which needs improvement.
"Plenty of positives -- the way Rahul is playing, Sehwag's form, the bowlers have shown they can take wickets  even on flat tracks. One area of improvement is the fielding, where we need to increase our intensity in the field," he said.