Indian captain Mahendra Singh Dhoni [ Images ] is likely to request the Indian cricket board that some of the players like him and Suresh Raina [ Images ], who have been playing non-stop for the last six months, be given some rest ahead of the important tour of South Africa [ Images ].
If the BCCI relents, then it might well be that Dhoni and Raina will be allowed to take rest for the upcoming five-match ODI series against New Zealand [ Images ] and be in fine fettle for the away series against the Proteas.
"If you look at the schedule players like myself and Suresh Raina have been playing non-stop cricket since the Sri Lanka [ Images ] tour. We went to play in the Champions League [ Images ] after that and came back and played the Australia [ Images ] and the New Zealand series.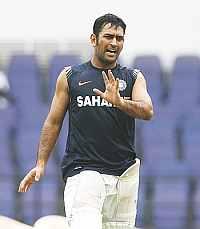 "So there has not been enough time to switch on and switch off. We will put in a request to the board but we have to see whether senior players are available or not," the captain stated at the pre-match press conference.
However he is still not sure whether the board will pay heed to such a request or not. Dhoni also didn't divulge whether some of the batsmen would go to South Africa earlier to acclimatize to the bouncy wickets.
"We are still to work that out," he said.