New Zealand opening batsman Tim McIntosh says that he has a score to settle with rival Indian fast bowler Zaheer Khan and a point to prove to himself when the second cricket Test starts in Hyderabad on Friday.
"I'm actually looking forward to confronting him again. I want to get one over him here," McIntosh told NZPA.
The left-hander is coming off a pair from the drawn first Test when the crafty Zaheer showed he still has the New Zealander's number.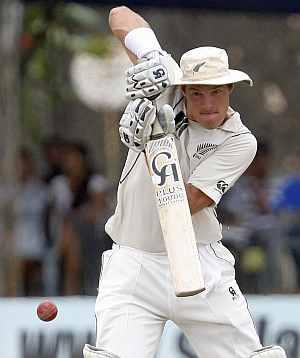 McIntosh's two visits to the crease lasted all of 16 balls at Ahmedabad where Zaheer continued to dog him, having him caught behind and trapped leg before wicket to maintain a stranglehold on the batsman first established in New Zealand early last summer.
Back then McIntosh fell victim to the left-armer in three of five innings when he managed just 60 runs at an average of 12 for the series.
While he has yet to bother the scorers in this series, McIntosh has already seen enough of Zaheer to appreciate the threat he poses with the new ball.
"He's a good, intelligent swing bowler and he has the ability to move the ball in both directions.
"He certainly has a plan devised and I have been trying to negotiate that, I suppose you could say unsuccessfully at the moment," said McIntosh.
McIntosh admitted he felt like he owed his team significant runs in Hyderabad.