Rahul Dravid was a satisfied man after his marathon innings of 191 and more so because he had been able to get rid of the few technical glitches he had developed in his batting of late. 
"I had not batted well against the left-arm pacers during the Australia series. (He was troubled by Doug Bollinger and Mitchell Johnson). So I went back to NCA and worked on my flaws with the coaches there and also spoke about it to Gary(Kirsten).
"Basically, I was opening the face of the bat towards cover and that was causing trouble. So when Andy McKay was bowling, the idea was to play as straight as possible. That was one area I worked on," said the hero of India's third day's play.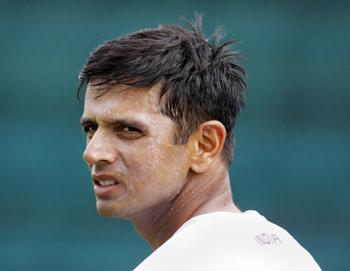 His poor run before the New Zealand series came in for a lot of criticism but Dravid felt that there was no point thinking about that. 
"Look questions are bound to be asked if you are not scoring runs. It's just that when you are 23 or 24, people ask different questions and when you are 37 or 38, they ask different questions. That's part and parcel of modern day cricket and you have got to accept that. The best way to come back is to score runs. 
"As far as I am concerned, I have never really bothered about the questions. It's always been about how I feel emotionally, physically and spiritually and whether I am giving my hundred per cent or not. These are a few boxes I always mentally tick before a series," he told the reporters. 
Dravid, however, felt that  credit should go to the bowlers for dismissing New Zealand for 193.
"New Zealand have batted very well in the series. We have scored excess of 450 quite often but it's the bowlers who helped us in getting a big lead. The first session tomorrow will be very crucial. 
"If we can get a few wickets till the ball is new and hard just like their bowlers did it today, it would be great. The pitch is still pretty flat and the ball isn't turning much. It's still a good batting track. Once the ball gets older it will be easier for the batsman to settle down and score runs," Dravid assessed.