Thrilled with Mahendra Singh Dhoni's on-field exploits, a fan from Ranchi has composed a song in praise of the Team India captain.
The 3.41 minute song, uploaded in YouTube, highlights Dhoni's hand in leading India to victories in the two World Cups, his helicopter shots, his passion for the game and several other achievements since the star's emergence in the cricketing world.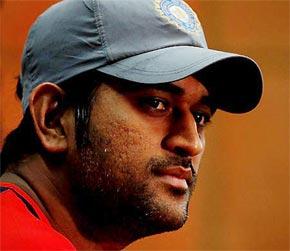 "It struck my mind while watching the January 19 One-Day tie against England in Ranchi. From then onwards I tried penning the lyrics and completed it last week. I have uploaded it on YouTube," upcoming singer Rohan Deo Pathak said.
A stage singer by profession, Rohan said he has also tried to put photographs to match his lyrics, music and song.
"I am also very happy that the song came days before Dhoni's 206 (not out) and India's win over Australia," said a beaming Rohan soon after India defeated Australia by eight wickets on the final day of the first cricket Test in Chennai.
Saying that he has also heard from friends about the YouTube song, Dhoni's former coach Chanchal Bhattacharya said, "It's good to hear anything in praise of Dhoni, and he deserves it. I will watch the song before commenting on it."
Lauding Dhoni's unbeaten knock, Bhattacharya said, "It's another memorable knock by Dhoni. But what makes the difference is his critics will think twice before commenting on Dhoni's batting prowess and leading the team in Test cricket."