In a major relief for Pakistan off-spinner Saeed Ajmal, he will not require surgery to treat his abdomen problem as it can be treated with medication.
Ajmal, 35, was told by specialists last week that he might require to have surgery to treat the abdomen problem which was related to Hernia.
"I had a complete examination including all tests in Lahore at the weekend and doctors now say the condition can be treated through medication and at the moment I don't require a surgery," Ajmal said.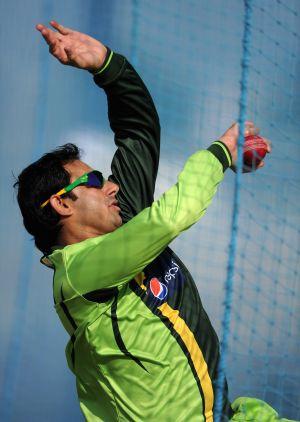 Ajmal who made a late start in international cricket has remained Pakistan's top bowler in the last few years having taken 133 wickets in 26 Tests, 125 in 79 one-day internationals and 71 wickets in 51 T20 internationals.
"Honestly speaking I was a bit apprehensive and nervous after being told I could require a surgery. But I am very relieved now that my stomach problem will be treated through medication," he said.
"I want to be 100 percent fit before we go to the Champions Trophy in England and for other assignments as well," he said.
Ajmal, spurred on by the good news, made his only appearance for his regional team, Faisalabad Wolves in the National Super Eights T20 Cup final against Sialkot Stallions and bowled a decent spell.
"It is harder to bowl in domestic cricket now because once you have earned a name in international cricket batsmen are always keen to do well off you so that they can come into the spotlight. It requires hardwork to manage things in domestic cricket," Ajmal said.
The off-spinner had kept away from the tournament because of the fears he might require surgery.
Photograph: Gareth Copley/Getty Images