New Zealand won a rain-affected fourth One-day International by 58 runs on Saturday to take a 2-1 lead over the West Indies in their five-match series.
The game in Nelson was decided under the Duckworth-Lewis method after wet weather set in with the West Indies apparently heading for their second consecutive heavy defeat.
A timely return to form for opener Martin Guptill, who made 81, saw New Zealand make 285-6 in their 50 overs and the West Indies were 134-5 after 33.4 overs when the rain sent the players from the field.
New Zealand, who won the Test series 2-0, now lead the ODI series 2-1 with one match to play in Hamilton next Wednesday.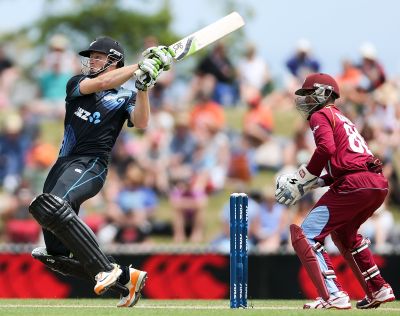 Guptill opened with a determination to occupy the crease as long as possible after struggling against the West Indies in his two previous innings with scores of two and one.
He crawled to eight off 40 deliveries before cracking his first boundary when he drove a full-length Dwayne Bravo delivery back over the bowler's head and beyond the sightscreen.
From there, man-of-the-match Guptill never looked back as he batted at nearly a run a ball for the remainder of his innings, which included four fours and two sixes.
Jesse Ryder, fresh from cracking the world's sixth-fastest ODI century in New Zealand's rollicking 159-run victory in the third ODI on Wednesday, survived two scares to score the bulk of the early runs.
After being dropped by Denesh Ramdin on 12 and Bravo at first slip shortly afterwards, both comfortable chances off Jason Holder, Ryder raced to 47 in 49 balls before Ramdin held a catch off Bravo.
Kane Williamson was also dismissed for 47 and Ross Taylor added 49 as New Zealand benefited from yet another injury in the West Indies camp.
Frontline bowler Ravi Rampaul was ruled out with a broken finger, becoming the sixth injured first-choice ODI player in the West Indies squad.
With their bowling weakened, the West Indies needed their batsmen to compensate but were again let down. Chadwick Walton (0) was run out in the first over and Johnson Charles was also removed for a duck in the fourth over to leave the West Indies 2-2 and the writing was already on the wall.
Lendl Simmons and Kirk Edwards managed to put on 60 for the third wicket before another run out when Edwards gambled on out-running Brendon McCullum's throw from short cover and lost by a wide margin.
Simmons departed for 43, caught by Guptill at midwicket off Kane Williamson, as the rain was starting to fall. When the umpires eventually took the players from the field, Bravo was unbeaten on 43, with Ramdin on 17.
Scorecard
New Zealand
M. Guptill c Bravo b Holder 81
J. Ryder c Ramdin b Bravo 47
K. Williamson c Ramdin b Best 47
R. Taylor run out (Holder/Narine) 49
B. McCullum c Bravo b Narine 14
C. Anderson not out 17
L. Ronchi b Bravo 9
N. McCullum not out 9
Extras: (lb5, w6, nb1) 12
Total: (six wickets; 50 overs) 285
Fall of wickets: 1-56, 2-144, 3-203, 4-232, 5-253, 6-267.
Bowling: Holder 10-2-58-1, Best 9-0-70-1, Bravo 7-0-35-2, Miller 10-0-47-0, Narine 10-0-47-1, Deonarine 4-0-23-0.
West Indies:
C Walton run out 0
J Charles c Southee by McClenaghan 0
K. Edwards run out 24
L. Simmons c Guptill b Williamson 43
D. Bravo not out 43
N. Deonarine c Mills b N. McCullum 3
D. Ramdin not out 17
Extras: (lb3, w1) 4
Total: (For 5 wickets in 33.4 overs) 134
Fall of wickets: 1-0, 2-2, 3-62, 4-83, 5-92.
Bowling: Southee 5-1-21-0, McClenaghan 6.4-1-30-1, Mills 2-0-10-0, Anderson 2-0-10-0, N. McCullum 10-0-30-1, Williamson 8-0-30-1.
Image: Martin Guptill
Photograph: Martin Hunter/Getty Images