The new rules in One-Day International cricket have made it difficult for slow bowlers, Pakistan's experienced leg-spinner Shahid Afridi said on Monday.
The former Pakistan captain has 348 victims in 352 One-Dayers but is without a wicket in the first three games in South Africa who lead the five-match series 2-1 going into the fourth contest in Durban on Thursday.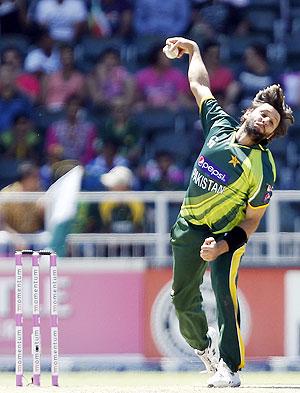 "As a spinner it is not easy bowling under the new rules. Not only me but all our spinners have struggled," Afridi told Geo News television.
"This rule of having two new balls in an innings and not having more than four fielders outside the 30-metre circle throughout an innings has made life difficult."
Pakistan's slow bowlers have been unable to contain South Africa and the home side racked up a huge 343 for five on the way to a 125-run win in the third match in Johannesburg on Sunday.
"I am now working with my bowling coach to adapt to the rules and come up with new tactics and strategies. I have also discussed it with our premier spinner, Saeed Ajmal," said Afridi.
"I think the new rules have changed the approach of the captains and batsmen as well."
The regulations were changed by the International Cricket Council (ICC) late last year.
The 33-year-old Afridi has been toiling with bat and ball for quite a while but he found some form by smashing 88 for Pakistan on Sunday.
"It has been a long struggle but everyone goes through bad phases," he explained.
"It is all about remaining tough and searching for confidence. I still want to get my bowling form back."
Afridi was dropped for the One-Day series in India in December before being recalled for the matches in South Africa.
He praised the South African batsmen, particularly Hashim Amla, for playing slow bowling so well.
"I think their cricket system and standards are breeding good players of spin," said Afridi. "They have played us very well."
Photograph: Siphiwe Sibeko/Reuters