World record Test-wicket taker Muttiah Muralitharan requires shoulder surgery and is expected to miss the rest of South Africa's tour of Sri Lanka.
The Sri Lankan off spinner was forced out of the second and final Test against South Africa which started on Wednesday after complaining of "intense pain", said team manager Ajit Jayasekera.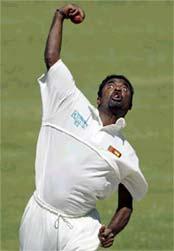 Muralitharan, 32, had complained of shoulder pain leading up to the drawn first Test in Galle but decided to play anyway, a decision that led to the injury being aggravated.
"We decided not to play Murali this morning because he was in intense pain and there was a grave risk that he would miss the ICC Champions Trophy (in England next month),"
Jayasekera told reporters.
"We sent an MRI scan to Doctor David Young (Sri Lanka's medical adviser) in Melbourne on Monday and he says there is a fluid build-up that needs to be removed.
"It seems that the fluid is too deep to be removed here and we may have to send Murali to Australia. We are discussing the situation with David Young and will know more later in the day," added Jayasekera.
Muralitharan has taken 532 wickets in 91 Tests.
South Africa will next week start a series of five one-day internationals in Sri Lanka.