Harbhajan Singh and Ravindra Jadeja have been retained by Mumbai Indians and Chennai Super Kings respectively for the 2013 season of the Indian Premier League.
There was much speculation in the media that the two Indian players would be released by their franchises, but all that was laid to rest after the nine IPL franchises confirmed their initial squads for the sixth edition of the T20 tournament by the October 31 deadline.
There are 179 players whose contracts are extended.
Under the terms of the IPL contract, the franchises had the option of extending the agreements with their players for the 2013 season on the same financial terms.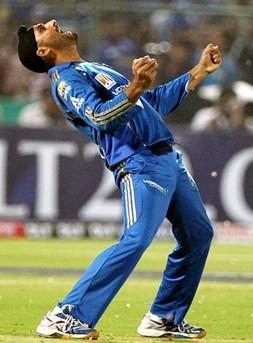 The Hyderabad franchise, owned by Sun TV Network, exercised its option and retained over 20 players who represented Deccan Chargers in IPL 2012. They include captain Kumar Sangakkara, South African speedster Dale Steyn, India pacer Ishant Sharma and Australia's Cameron White among others.
"The franchises have clearly focussed on performance in the IPL in making their decisions as to which players will form part of their respective core groups for the 2013 season. Each franchise has room under the salary cap to be able to sign additional players, either by trading or in the auction or, in the case of uncapped Indian players, by direct agreement with the player in question," IPL chairman Rajeev Shukla said.
Each franchise has a salary cap of up to US $12.5m to spend on their 2013 squad for up to 33 players, of whom a maximum of 11 can be from overseas. Only four overseas players can figure in the starting eleven for any match.
The trading window will open on Monday, November 19. Thereafter, the franchises will be able to sign new uncapped Indian players, including the 52 whose contracts were not extended.
From November 1 the franchises also have the option of re-signing the players who they took as temporary replacements in IPL 2012.
The date for the Player Auction will be intimated soon.