Pakistan captain Misbah-ul-Haq may have tasted unprecedented success in all the three formats of the game this year but the fear that failure in two or three matches could put his captaincy and place in the national team in jeopardy still bothers him.
Pakistan head coach Mohsin Khan made this disclosure in an exclusive interview on Geo Super channel when asked that many former players and critics felt that Misbah was a defensive captain.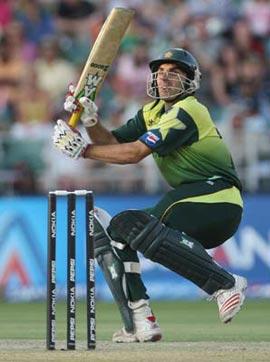 "I think you have to understand that at his age, he still worries about the fact that if he fails in one or two matches the critics will be after him and he could be dropped," Mohsin said.
"That is why he at times tends to play it safe. But he has gained in confidence as a captain and I have been trying to tell him to not think about these things and just focus on doing what he is doing best at the moment leading the team by example," Mohsin added.
The 37-year-old Misbah, who was appointed captain in all three formats this year, led Pakistan to series wins over Zimbabwe, Sri Lanka and Bangladesh away from home cementing his place in the side as senior batsman and captain.
"I think Misbah is an intelligent player and composed captain and he communicates well with the players. He has also quickly picked up the confidence to push for victories plus he is batting extremely well. I just tell him just go out and get runs and don't waste any innings. He has served Pakistan cricket very well," Mohsin said.
He described his working relationship with Misbah as ideal as he pointed out that the senior batsman had the knack of consulting other players and management and keeping them on board on important decisions.
"During the last test against Bangladesh both of us decided on spur of moment that even if we get 10 overs we will go for victory and not settle for a draw," Mohsin said.
The Pakistan coach also lashed out at his critics who have accused him of being armchair coach, not being physically very active and holding long team meetings to the frustration of the players.
"I think I have got along well with the players in the team. People need to understand that nowadays the job of a coach is to mentally make his players stronger and just guide them and discuss strategies with them. A coach is a planner. I don't think you can teach anything more in batting terms to Misbah or Younis at this stage," he said.
Mohsin admitted that he didn't shy away from having a word with either senior or junior players if they failed to live up to expectations or didn't execute things properly on the field.
"I have told the players that we are all because of Pakistan and being professionals we are also supposed to deliver no compromises on that.
"My mantra is give you 100 percent on the field win or lose is part of the sport. Because millions of people pray for our success and we shouldn't let them feel we let them down or didn't try hard enough," he said.