They have not forgotten Michael Atherton in South Africa, let alone forgiven the former England opening batsman.
He broke South African hearts almost 10 years ago and it still hurts.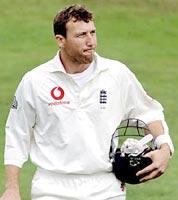 "Yes, it was a career defining innings," Atherton said on Wednesday as he recalled the unbeaten 185 he scored in just under 11 hours at The Wanderers to stop South Africa winning the second test of the 1995-6 series.
"They always seem to remember it here. They expected to win the game but I seemed to go on and on."
England could do with another Atherton as they battle to salvage the third test at Newlands on Wednesday and Thursday, the final two days of the match, after being set an improbable 501 to win.
"There are similarities between that game and this one," Atherton, now a journalist and commentator, told Sky Sports. In both tests, he said, South Africa had failed to inject pace into their batting in an attempt to press home their advantage.
'MILES AHEAD'
"In '95, they went off for bad light on the third day when they were miles ahead, and they also waited for Brian McMillan to get his century in the second innings."
England were set 479 to win but, as in Cape Town, survival was the only option.
Atherton was renowned for his powers of concentration.
The trick, he said, was "to break your innings down into periods of time".
"You couldn't just say you were going to bat for 11 hours. You just keep saying: 'It will get easier, it will get easier.' Then you set yourself little targets, like getting through to tea or drinks.
"Concentration wasn't a particular problem, it was one of my strengths. I had the ability to switch on
and off. You can concentrate for eight seconds, then the ball is dead and you switch off, look around the ground and relax."
He also made sure he kept to his routine on the fourth evening, indulging in a restaurant meal of pasta washed down by a couple of glasses of wine as he had done previously during the match.
SECRET INGREDIENT
The other secret ingredient to a marathon match-saving innings, apparently, is having a lunatic batting at the other end.
Atherton was accompanied by eccentric, tea-drinking wicketkeeper Jack Russell, who hung around for four-and-a-half hours to score 29 not out off 235 balls during an unbroken stand of 119.
Russell, looking more like a New York motorbike-riding policeman in his helmet and reflecting sun glasses, infuriated the likes of Allan Donald and Shaun Pollock with one extravagant leave after another, repeatedly swinging his bat inside the line of the ball at the last second before staring back up the pitch.
"It was just a case of having some support at the other end and I had a lunatic -- Jack Russell," added Atherton.
"He had little habits and superstitions. He had to touch my pad with his bat between overs. He would snarl something through his moustache, touch my pad and then wander off.
"I said nothing back, I was never one for chatting between overs, but he helped me keep going. He was even more obdurate than me.
"By mid-afternoon on the final day, I knew they would not get me out."
As for Russell, "he kept repeating 'Remember Barbados, remember Barbados' at me throughout the innings."
Atherton thought Russell was referring to getting out in a match in the West Indies which had precipitated an England collapse, "but I told him after the game I hadn't been there and did not know what he was talking about".