Australia captain Michael Clarke has declared himself fit to face England in the second Ashes Test and is relishing the opportunity to lead out the same 11 players in back-to-back matches for the first time in a year.
Clarke skipped training on Tuesday after rolling his right ankle the day before, but batted in the nets at Adelaide Oval on Wednesday before declaring himself a certain starter.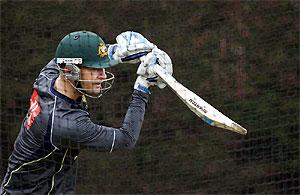 "The ankle feels fine," the 32-year-old told reporters on the eve of the opening day of the match.
"I think not training yesterday obviously gave me an extra day to make sure I was 100 percent today. I feel completely fine."
Routed 3-0 in England in the first of back-to-back Ashes series this year, Australia turned the tables in the opener in Brisbane with an emphatic 381-run victory, and selectors have stuck with the same team for the Adelaide match.
Australia have not named the same team in consecutive Tests since last year's home series against South Africa, underlining a tumultuous period marked by indiscipline, injuries and repeated collapses by a brittle batting lineup.
STATE SECRET
Clarke's willingness to announce the lineup was also a telling departure from his cagey media conference on the eve of the Brisbane Test, where he guarded the team-list as jealously as a state secret.
"(It's) a nice position to be in, to be honest," Clarke enthused. "When the selectors hand you the same 11, it's a real positive for where the team is at and how we performed in Brisbane.
"If you look at our Test record this year, it's certainly not something to brag about in regard to wins.
"In saying that, we take a lot of confidence out of the first Test in Brisbane.
"There's a lot of positives that have come out, not just the most recent game in Brisbane, but over the last six-eight months, but our results certainly haven't indicated that.
"The players understand that we have to be at our best over long periods of time to get back to where we want to be: (the) number one Test team in the world."
A drop-in pitch at the Adelaide Oval is only expected to burnish the ground's standing as a batsman's paradise and Australia's seamers are likely to work far harder than in Brisbane, where they exploited a bouncy deck to rout England.
Clarke, however, was confident the pitch could produce a result and dismissed any suggestion that a mountain of runs was a given for either side.
"You'll see two very good bowling attacks," he said.
"If there's any two attacks that are going to find a way, it's these two. There's going to be enough in the wicket early. I think reverse swing is going to play a part, and spin is going to play a part in the Test match.
"If you have an expectation to walk out there and make a 100 or the team make 500 I think you're kidding yourself."
Clarke amused guests at a function a week before the first Test by forecasting the makeup of England's team and was subsequently proved correct when the tourists emerged at the Gabba.
After initially declining, the Australian skipper was goaded into speculating on Alastair Cook's team for Adelaide.
"I don't think they will play Monty Panesar but I wouldn't be surprised on that wicket out there because spin's going to play a big part," he said.
"I think we've got a lot of right-handers through our order. But I think they'll go safe. They'll go (seamer Tim) Bresnan and I think they'll go (Gary) Ballance," Clarke added, referring to the Zimbabwe-born batsman, who is vying for a place in the middle order along with Jonny Bairstow and Ben Stokes.
"So, yeah, I do have a team for you. Joe Root three, Ballance six. Bresnan's eight or nine in (the order) there somewhere."
Team: Chris Rogers, David Warner, Shane Watson, Michael Clarke (captain), Steve Smith, George Bailey, Brad Haddin, Mitchell Johnson, Peter Siddle, Ryan Harris, Nathan Lyon.
Photograph: Tim Wimborne/Files/Reuters