Australian pace legend Glenn McGrath was inducted into the International Cricket Council's Hall of Fame on Thursday, making him its 68th male member.
McGrath was formally inducted during the lunch interval of the ongoing third Test between Australia and Sri Lanka at Sydney Cricket Ground.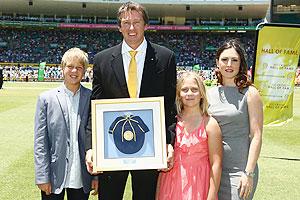 McGrath joins fellow 2012-13 inductees West Indian Brian Lara and England's Enid Bakewell in being recognised by the ICC and the living members of the Hall of Fame.
While Lara and Bakewell were inducted in September at the ICC Awards, McGrath was inducted at his home ground of the SCG by ICC President Alan Isaac, along with Cricket Australia chairman Wally Edwards in front of a large and appreciative crowd.
"I am delighted to be inducted into the ICC Cricket Hall of Fame and to be considered among the greats of the game. To be honoured alongside the likes of Don Bradman, Dennis Lillee and Michael Holding who were all my heroes when I was growing up is something I could never have dreamed of when I first started playing cricket," McGrath said.
"I have to thank my family, my team-mates, my coaches and all those who have supported me throughout the years to help mold me into the cricketer that I became. I took great pride every time I donned the Baggy Green and I now take great pride in being inducted into the ICC Cricket Hall of Fame," he added.
A fourth and final inductee of 2012-13 will be announced later this year.
McGrath, who was born in in Dubbo, New South Wales in 1970, represented Australia in 124 Test matches between 1993 and 2007 claiming 563 Test wickets at an average of 21.64. He has taken more Test wickets than any other seam bowler currently in the game or retired.
Australia won 22 of the 30 Ashes Test matches that he played, with the side losing just four matches when McGrath was part of the bowling attack.
McGrath was part of the Australian side that won three successive World Cups -- 1999, 2003 and 2007. He still holds the record for most wickets in World Cup competitions with 71 scalps and his figures of 7-15 against Namibia are the best in the competition's history.
When McGrath retired from the game in 2007 he had represented Australia in 250 ODIs, claiming 381 wickets at an average of 22.02 while he took over 800 first-class wickets in his career.
Image: Former Australian cricketer Glenn McGrath holds his commemorative cap in recognition of his ICC Hall of Fame Induction as he poses with his son James, daughter Holly and wife Sara Leonardi-McGrath during day two of the Third Test match between Australia and Sri Lanka at Sydney Cricket Ground on Friday
Photograph: Mark Kolbe/Getty Images