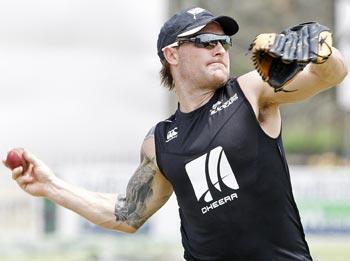 A Dismayed New Zealand Cricket (NZC) said on Monday that national captain Brendon McCullum was not under investigation for match-fixing, as reported earlier by a British daily, and added that he had only given testimony to the International Cricket Council on the understanding that it would be kept confidential.
The NZC said that it was dismayed over the testimont being leaked to the media.
In a short statement, NZC, reacting to a report in Britain's Daily Mail which said McCullum gave evidence to ICC anti-corruption investigators that a world renowned former cricketer offered him up to $180,000 to fix matches in 2008, said the cricketer was not under investigation.
''We can confirm that Brendon is not under investigation by the ICC and his testimony has actually been applauded by them,'' the NZC statement said.
NZC chief executive David White would address media on Monday.
It was understood McCullum was interviewed by ICC investigators more than once, on the understanding it was confidential. The Mail reported McCullum, as telling investigators that his 'hero' tried to bribe him in a Worcester cafe during New Zealand's tour of England in 2008.
His evidence stated he was first approached while playing for Kolkata in the 2008 IPL. McCullum gave evidence that he rebuffed the offers, and insisted he had never been involved in match-fixing.
Image: Brendon McCullum
Photograph: Reuters