Former Zimbabwe cricketers Andy Flower and Henry Olonga, who protested against President Robert Mugabe at the World Cup earlier this year, were given honorary life membership of the Marylebone Cricket Club today.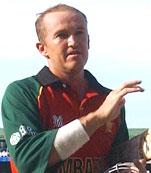 The pair, who made headlines during cricket's showpiece event staged in southern Africa, wearing black armbands to mourn the death of democracy in Zimbabwe, have both since retired from the international game.
"They sacrificed their international careers... to take a brave and principled stand against an appalling regime," incoming MCC president Charles Fry said in a statement.
"We are delighted that they accepted our offers of honorary life membership. In addition, we are thrilled that Andy and Henry are keen to play for MCC sides in the future."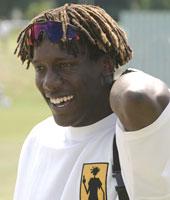 Honorary life membership of the MCC is normally granted only to cricketers whose first-class careers have ended.
But the MCC said it hoped future political changes in Zimbabwe would lead to both Flower and Olonga resuming their international careers.
Last month, Flower, a world-class batsman, signed a two-year contract with English county Essex as an overseas player.
Fast bowler Olonga, who went into hiding after the World Cup amid reports that the Zimbabwean secret police were looking for him, has spent the last six months in England on a work permit, playing club cricket and doing TV commentary.