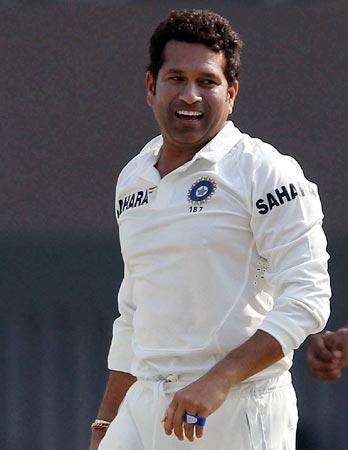 As Mumbai goes into a tizzy to felicitate batting legend Sachin Tendulkar on his retirement at the end of his 200th Test on November 18, the Maharashtra government has also decided to do its bit. It will present him a special silver trophy, bearing the signatures of all its 40 ministers.
Maharashtra Chief Minister Prithviraj Chavan told rediff.com that the decision to felicitate Sachin Tendulkar with a special trophy was approved by the State cabinet. He said the cabinet had taken cue from the cricketing world's tradition of presenting autographed bats to winners or retiring players.
"We, therefore, decided that the names of all the state ministers will be engraved on the trophy along with their signatures," Chavan said.
This will ensure that Tendulkar remembers the names of the ministers who were in office when he retired. At the same time, it is an opportunity for the cabinet ministers to figure in what will, in years to come, be an important cricketing souvenir.
In addition to the Maharashtra government, a string of felicitation ceremonies and programmes are lined-up in Mumbai by civil society groups and clubs. The felicitation will be kicked off on November 11, when the Mumbai Cricket Association names the newly-built Kandivli clubhouse after the nation's cricketing icon.
The function will be held in the presence of the India and West Indies teams, before they face-off in the blockbuster second Test of the series, at the Wankhede stadium.
Chavan, Board of Control for Cricket in India president N Srinivasan and MCA chief Sharad Pawar are among the dignitaries who will attend the programme.
In a separate event, the BCCI will felicitate Tendulkar ten minutes before the commencement of the Mumbai match. Needless to say, there is a mad rush for tickets, as this will be the last opportunity for cricket lovers to watch the living legend in action.
Tendulkar's family, including his mother, will be present in the stands to cheer him along with the country's who's who.
With tickets being snapped up by VIPs, little wonder the common man is feeling left out.
Image: Sachin Tendulkar during his 199th Test at the Eden Gardens in Kolkata
Photograph: BCCI