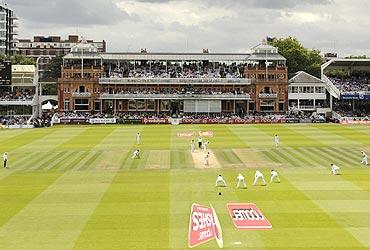 They're the two most popular 'bat-and-ball' sports in the world, based on opposite sides of the Atlantic. But, oh, how different they are!
Cricket, the ultimate gentleman's game, with its regal all-white kits and emphasis on grace, symbolic of the days when the sun never set on the stuffy British Empire.
Baseball, America's national pastime, known more for on-field brawls, muscle-bound 'sluggers' and chewing tobacco, symbolic of the raucous 19th century United States, the setting where it was first widely played.
Cricket purists tend to look with scorn and derision on baseball players, thinking of them as less skilled and more brutish. Baseball fans are quick to call cricket -- with its five-day Test matches -- boring and outdated.
But now both sides have extended an olive branch!
The Marylebone Cricket Club, former world cricket control body, and the National Baseball Hall of Fame, baseball's most storied club of former players and managers, have combined forces to host an exhibit called 'Swinging Away: How Cricket and Baseball Connect'.
The exhibit, which is currently being displayed at the museum at the Lord's cricket ground in London, celebrates the similarities and differences between the two sports. The Baseball Hall of Fame, based in Cooperstown, New York, will host the exhibit beginning next April.
'Sports are a tribal thing, and cricket and baseball have been so absorbed into the respective national psyches,' Adam Chadwick, curator of the Lord's museum, reportedly told The New York Times while discussing the exhibit. 'On both sides of the Atlantic, we like to celebrate the 'special relationship' between our two countries, but that tends to disguise the fact that we have such fundamentally different outlooks.'
One interesting aspect of the exhibit is that Americans exposed to it might come to learn that their beloved baseball was actually played in England 100 years before it was ever popular in the US! A common myth in the US says that a man named Abner Doubleday invented the game in America in 1839. But historians says that the game had its origins in England, a century earlier, and came to America only with immigrants from the old country.
The exhibit also shows how cricket was once relatively popular in America, until baseball eclipsed it in the mid-to-late 19th century.
Image: A panoramic view of Lord's, cricket's holiest shrine. Credit: Philip Brown/Reuters