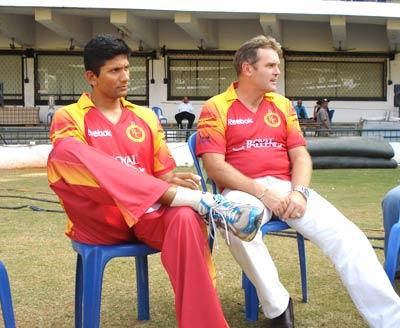 Dr Vijay Mallya's Bangalore Indian Premier League team "Royal Challengers" will be attired in a attractive mix of red and yellow for the Twenty20 tournament which begins next month.
The team composition and the squad will be unveiled in Bangalore on Wednesday evening.
The team, which will be led by former India captain Rahul Dravid, has Venkatesh Prasad (left) as it's coach and New Zealand's former skipper Martin Crowe (right) as the team's strategist.
Also read: Dravid ready for Twenty20 challenge
Crowe and Prasad were attired in the colours during an advertisement shoot at the M Chinnaswamy stadium in Bangalore.
The team's Chief Executive Officer Charu Sharma said the red and yellow colours make attractive viewing under lights and "is also associated with many good things in our country."
"The colour is familiar with this part of the country and is part of the Karnataka flag," he said.
Here is a first look of it.