In a historic day for the Indian cricket, former Test captain Anil Kumble was on Sunday elected as president of the Karnataka State Cricket Association and the group led by him won 23 out of the 24 posts that went to the polls in Bangalore on Sunday.
Kumble defeated Srikantadatta Narasimharaja Wodeyar, scion of the Mysore Royal family, by a margin of 33 votes.
Former fast bowler Javagal Srinath became the honorary secretary after defeating former umpire A V Jayaprakash.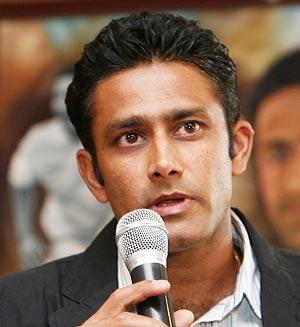 Venkatesh Prasad, Roger Binny and Sadanand Mayya were elected vice-presidents.
Binny, who was re-elected to the post, said these elections will change the face of the cricket in the state.
"It's a land mark victory which will change the perception of sportsmen entering into administration. Personally for me, this is one of the sweetest victories in an election," Binny, the hero of the 1983 World Cup wining Indian team, said.
Asked about the aim of the new elected team, he said, "Cricket and cricketers will get the foremost priority. Our main endeavour will be to improve the standard of cricket in Karnataka and develop a great infrastructure at the grassroots level," Binny said.