England batsman Kevin Pietersen, who has recovered from a double hernia operation that ended his World Cup prematurely, has vowed not to stop playing cricket until he has established himself as "a great of the game".
Pietersen believes he has come in for some unfair criticism. First, for his return from the World Cup with his hernia injury after coach Andy Flower suggested he might have continued.
"I was shocked at that because I was in ridiculous amounts of pain," he said. Secondly, for going to a nightclub in Soho two days later. "I was seeing friends and family and would do that again, absolutely," he added.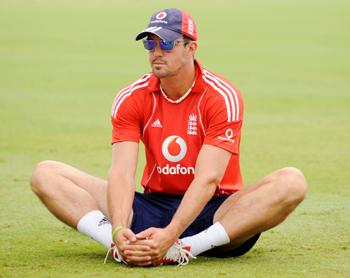 "Look, I'm 30 years old. Everyone says money and finance [might be the reason], but with central contracts, you are not allowed to give up forms of the game, so logistically it doesn't work. It would create more nonsense for me. Why would I want to create that?
"There are a lot of people saying things about me that are not true. A lot of people saying I want other things in life – that I don't want cricket. I love cricket. Cricket is my everything. What would I do tomorrow if I didn't have cricket?"
Having got his injury problems out of the way, Pietersen is now ready to take up that challenge, the Daily Express reports.
"I had a bad couple of years, but I went away last September to do some soul-searching, sort myself out and work with people who really know me. A month later I got a double hundred in Adelaide and averaged 60 in the Ashes and I'm back playing as well as I have ever played.
"I am happy where I am as a cricketer. But I have only achieved half of what I want to achieve in the game. I'm told I'm only five hundreds away from having the most in Tests for an Englishman. I'm not far off and I want to play for another five years," he said.