Former Test opener Simon Katich may face possible sanctions by Cricket Australia (CA) over his recent comments that Aussie captain Michael Clarke had a hand in axing him from the national team.
- Katich accuses Clarke of ruining his career
He has been booked under the CA code of behaviour for making "detrimental public comment" and chief executive James Sutherland informed that the details of Katich's hearing will be released in the next few days.
Sutherland, in a statement, said that he was "surprised and disappointed" with the comments made by Katich, despite indications from the new full-time national selector John Inverarity that the door was not closed on him for future selection.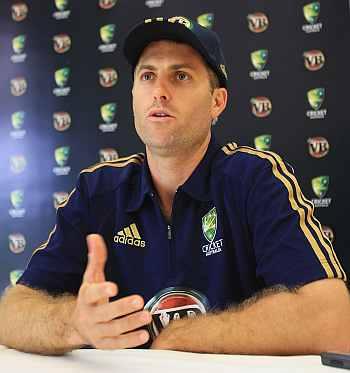 CA said that it "emphatically refutes any suggestion that Michael Clarke influenced the independent selection panel's recommendations for the 2011-12 CA contract players' list. The suggestions made by Katich are completely erroneous, inappropriate and unfair to Clarke, the selectors and to CA."
On Friday, the 36-year-old Katich accused Clarke of playing a role in removing him from the list of CA contracts, and also said that he would never be able to wear a baggy green again as long as the team is led by the present skipper.
"I think you don't have to be Einstein to figure out that it's not just the selectors that had a part in sending me on my way," Katich had said.
"I mean to be brutally honest obviously what happened in the dressing room here a few years ago didn't help my cause. And obviously the captain and coach are selectors," he added.
Katich was embroiled in an altercation with Clarke after the Sydney Test against South Africa in January 2009, where he reportedly grabbed the latter by the throat in the dressing room after an argument had developed over when the team song would be sung.
And the former opener feels the unfortunate incident would continue to be a hindrance to his international comeback despite the fact that a new selector Inverarity has been appointed in place of former chairman of selectors Andrew Hilditch.
"Just because he (Inverarity) is going to be chairman of selectors or whatever role it is I wouldn't have thought that'd make too much difference."
Clarke, on his part, denied Katich's allegations but made it clear that he would not be keen to bring back the former opener after his latest outburst.
"Look when Simon wasn't selected I wasn't a selector at the time. Since becoming a selector I've made it clear in plenty of press conferences that the door's certainly not closed on anyone, but in saying that I don't think his comments are certainly helping him get back into this team at the moment," said Clarke.