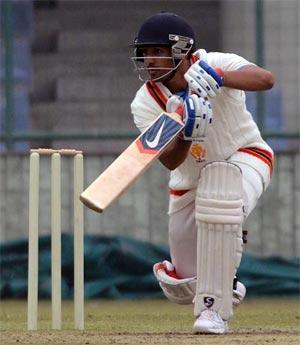 Karnataka sealed a berth in the final the Ranji Trophy after the fifth and last day of their semi-final against Punjab was washed out, in Mohali, on Wednesday.
They entered the final by the virtue of the first innings lead, and will take on Maharashtra at Hyderabad from January 29.
The match was called off by the umpires without a ball being bowled on Wednesday due to persistent rain.
The first day of the match was also wiped out.
Karnataka, who were at 447 for 5 in reply to Punjab's first innings total of 270, are making their first Ranji final in four seasons.
At stumps on the fourth day, Karnataka were 447 for 5 in 146.1 overs after bad light stopped the proceedings.
The visitors scored 96 runs on the day without losing a wicket, as left-hander Amit Verma celebrated his return to the state side with an unbeaten 114 and the in-form Karun Nair took his overnight score to 151.
Maharashtra beat Bengal by a convincing margin of 10 wickets in the other semi-final, in Indore, on Monday.
They last played in the Ranji Trophy final in the 1992-93 season, when they lost to Punjab.
Scorecard
Punjab (1st Innings): 270
Karnataka (1st Innings): (Overnight 351-5)
R Uthappa lbw Harbhajan 47
KL Rahul c Khera b Gony 4
M Agarwal c Khera b Jaskaran 0
M Pandey c Khera b Sandeep 65
K Nair batting 151
CM Gautam c Jiwanjot b Harbhajan 48
A Verma batting 114
Extras: (lb-7, w-2, nb-9) 18
Total: (for 5 wickets; 146.1 overs) 447
Fall of wickets: 1-6, 2-23, 3-94, 4-158, 5-241
Bowling: Sandeep 23-5-58-1, Gony 31-4-103-1, Jaskaran 25-5-89-1, Harbhajan 33-3-98-2, Yuvraj 4-0-14-0, Kohli 12.1-1-42-0, Gurkeerat 18-3-36-0.
Image: Karun Nair