Pakistan leg-spinner Danish Kaneria has lost his appeal against being found guilty of spot-fixing but an appeal over his life ban in Britain will be heard later, the England and Wales Cricket Board (ECB) said on Friday.
The 32-year-old, who has played 61 Tests, was branded a "grave danger" to the game by the ECB who last year found him guilty of encouraging or attempting to encourage Essex team mate Mervyn Westfield to underperform in a match in 2009.
"An appeal panel of the Cricket Discipline Commission today dismissed an appeal by Danish Kaneria against a finding of a disciplinary panel in June 2012 which found he had been guilty of two charges under the ECB's regulations," a statement said.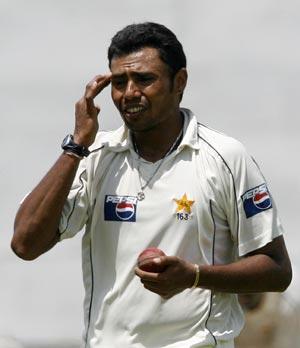 "His further appeal against sanction and costs will be heard at a later date. The appeal of Mervyn Westfield against the sanction imposed on him in June 2012 will also be heard at a later date."
Westfield, asked to concede a set number of runs during his opening over in a county match against Durham in exchange for a payment of 6,000 pounds ($9,300), was previously jailed for four months and banned from top-level cricket for five years.
Kaneria's appeal was adjourned in December when Westfield failed to show up. The ECB did not say if the English bowler had attended the latest hearing.
Photograph: Vivek Prakash/Reuters