Former South African bowler Pat Symcox has hailed retired South African all-rounder Jacques Kallis, saying that Kallis is the 'greatest cricketer that has ever lived'.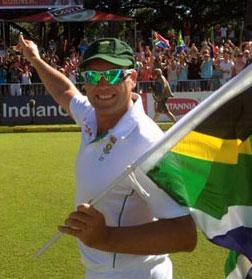 Symcox reserved special praise for Kallis, who was the last of the South African teammates that Symcox had played alongside during his career, to retire.
According to Sport24, Symcox suggested that not only was Kallis the greatest all-rounder who had ever played, but that the South African was arguably the greatest cricketer ever to have played the game, in terms of cricket statistics, adding that in terms of batting, bowling and catches, no cricketer has ever bettered Kallis' record.
The former off spinner also said he believed that other players and captains, would agree with his statement, adding that Kallis' record would put him ahead of cricket greats like India's Kapil Dev, West Indian Sir Garry Sobers, South Africans Mike Proctor and Shaun Pollock, Australian legends and England's Ian Botham.