South Africa all-rounder Jacques Kallis will not play in all the five ODIs against visitors Sri Lanka as he plans in advance to participate in what could be his sixth and last World Cup for the country in 2015.
"I think I will play in at least the first two and then decide about the rest of the series," Kallis said.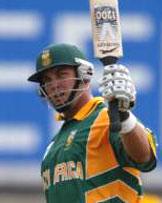 Kallis explained that he would be talking to Proteas coach Gary Kirsten about his plans.
A week after being written off following a pair in the second Test against Sri Lanka, Kallis led the Proteas to series victory with a double century during the final Test -- his 150th -- in Cape Town last week.
Thrilled at the success at his favourite ground, Kallis said he had no plans to retire yet, and still dreamt of winning the World Cup for South Africa.
"Only time will tell whether, I'll get another chance to do that. I doubt whether I'll still be able to play for another 10 years, because no one has the right to play in South Africa. It's a privilege that you have to earn," Kallis was quoted as saying by weekly City Press.
"For now, I'm just taking it match by match, month by month and year by year. If I manage myself and my workload properly, and the old body plays along, it may just happen again."