Australian pace legend Glenn McGrath's deceased wife Jane's funeral will take place on Wednesday morning at a Sydney church.
English-born Jane lost her long battle with cancer at the age of 42. She will be laid to rest at The Garrison Church in Sydney.
The McGrath family has organised an audio feed for broadcasters but has barred the filming or photography of proceedings inside the church.
There will also be a designated area for the general public wanting to pay their last tributes to Jane outside the church.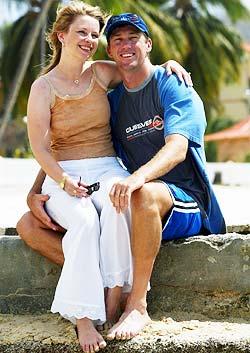 Jane's death has turned into a national tragedy in Australia and tributes have poured in from Glenn's former team mates, the country's Prime Minister Kevin Rudd and the opposition leader.
"I am devastated by the loss of my beautiful wife Jane," Glenn McGrath said in a statement on Monday. "She was my best friend.
"This is also a very tough time for our children James and Holly. I am grateful they were able to spend the time they had with their mother.
The Australian cricket team will honour Jane's memory during Tuesday's one-day international against West Indies in St. Vincent.
The players will wear pink ribbons and batsmen will use pink grips on their bats.
The colour pink represents the McGrath Foundation, an organisation set up by Glenn and Jane to raise money for the fight against breast cancer.
"Jane was a wonderful person who fought and maintained grace and dignity during her long-term illness," Australia captain Ricky Ponting said in a statement.
"She was an exceptionally friendly and lovely person who displayed great courage and stoicism during her illness.
Image: Glenn McGrath with his wife Jane in St. George's, Grenada on May 29, 2003.
Photograph: Hamish Blair/Getty Images