England fast bowler James Anderson said he felt a huge sense of relief after claiming his 300th Test wicket in the first Test against New Zealand at Lord's on Friday.
The 30-year-old had New Zealand opener Peter Fulton caught at second slip by Graeme Swann to become only the fourth Englishman to reach the milestone.
"I'm quite happy I got it out of the way early," Anderson told a news conference. "I'm feeling ok, I'm not getting that old yet and I've got a few more in me yet."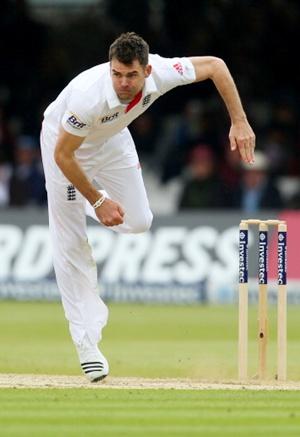 Anderson, who started the match on 298 wickets, dismissed opener Hamish Rutherford in his first over, caught by Alastair Cook at first slip, and his movement again proved too much Fulton who was well taken low down by the fast bowler's good friend Swann.
"It was nice to see him hold on to one," Anderson joked. "It meant a lot to me and I could see how much it meant to him too."
Anderson joined fellow-England pace bowlers Ian Botham, Bob Willis and Fred Trueman in reaching 300 wickets.
"He's in the 300 club and I fully expect him to go on and make the 400 club," Botham said in commentary for Sky Sports.
"It's great for Jimmy but there's a lot more to come. He's got loads more cricket in him, he's exceptional.
"Magnificent effort from him, he's developed skills, these are things you have to work on."
Anderson, playing his 81st Test since making his debut in 2003, has been the leader of England's attack for the past few years.
Largely avoiding the injury problems from which most fast bowlers suffer, he has the ability to swing the new and old ball in all conditions and his control of line and length make up for a lack of express pace.
"I have changed hugely as a bowler," Anderson said. "I am a lot more skilful now than when I started. You get that with experience."
He returned to the England attack on Friday and picked up the vital wicket of Ross Taylor, who top-scored with 66 in New Zealand's 153 for four in reply to England's 232.
"Taylor played really well, counter-attacked well," Anderson said. "But we didn't bowl very well at him, too many short and wide balls. That's one of his strengths."
Botham holds the English record for Test wickets with 383 and Anderson thinks he has a chance of overtaking the great all-rounder.
"I don't see why not," he said. "But there's a long way to go. I will just concentrate on staying fit."
Anderson's best Test bowling figures were seven for 43 against New Zealand in Nottingham in 2008, one of his 12 five-wicket hauls in an innings.
Image: James Anderson
Photograph: Clive Rose/Getty Images