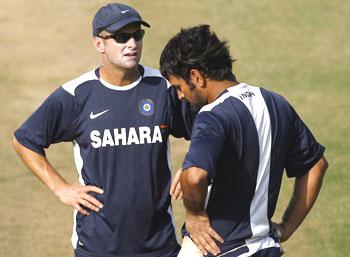 Team India has had little going in its favour in the opening two days of the first Test at the VCA Stadium here in Nagpur.
After making early inroads into the South African batting, the hosts have since only been mere spectators to an impressive batting effort by the visitors -- an effort that ended in them mounting a mammoth 558 for six declared in their first innings after being two down with just six runs on board at the start.
While the Indian bowlers failed to take wickets at regular intervals and keep the pressure on the opposition, they did manage to keep the scoring rate under check throughout.
And if Indian coach Gary Kirsten is to be believed, therein lies the success of his bowlers.
"At 291 for two at the end of the opening day we were left with two options, we either needed to take wickets or keep the run rate down," explained Kirsten.
"We were not getting the wickets. So I think the guys bowled well to keep the run rate down," he added.
The South African was a tad philosophical in explaining his bowlers' lack of success in terms of wickets taken.
"There are days when the bowling simply doesn't work," he reasoned. "And we only look at what we are supposed to do and how we do it well.
"But when the opposition does counter your strategies well you have got to acknowledge that too," he added, generously crediting the South African's batting effort.
The coach refused to buy the idea that his side was a bowler short and needed a fifth option.
"In the last 15 Test matches that we have played, besides one Test in Bangladesh, we have always played with four frontline bowlers," he explained, adding, "And I believe we have a good record during that period."
Kirsten, however, agreed that his team has an uphill task ahead of them.
"It is a big day for us tomorrow from the batting perspective," noted the coach. "The pitch is taking turn but the South African batsmen showed it is not out of hand." The coach also admitted the team will miss the presence of heavyweights like Rahul Dravid and VVS Laxman in its ranks.
"Obviously we do miss the experience of Dravid and Laxman," said Kirsten.
"But at the same time I think (Murali) Vijay and Badri (S Badrinath) have an opportunity to prove their mettle," he added.