Many have already started talking about new batting sensation and India's vice-captain Virat Kohli as Sachin's possible successor but legendary Sri Lankan spinner Muttiah Muralitharan said there was no point in this comparison.
- Meet the contenders for the coveted No. 4 slot in Tests
- Sachin is the 'greatest' of my era, says Muralitharan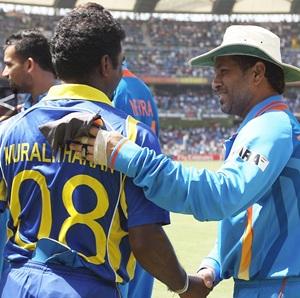 India's dependence on Kohli in the lineup and his current performances have been compared to that of Tendulkar's in the 90s.
"Two things cannot be the same. Virat Kohli is one of the greatest young talents around. It would not be right for me to say that India has found another Sachin in Kohli. Only time will tell. It took Sachin 24 years to become great and Kohli has just started.
"If Kohli keeps on realising his talent, playing like he plays these days, shows same discipline and dedication, then he can become one of the greatest players. But, as of now, Sachin is the greatest.
"I like Kohli's attitude, his aggression, and his hunger for runs. He captained me (for Royal Challengers Bangalore) in the IPL. I saw his hunger to win every time, to score big. He is a talented cricketer. Sachin is definitely the greatest of my time. Sachin has already achieved everything in his career and Kohli is in the process of achieving it," he said.
Image: Sachin Tendulkar (right) of India shakes hands with Muttiah Muralitharan
Photograph: Michael Steele/Getty Images