With Mumbai Cricket Association (MCA) making it clear that Shah Rukh Khan would not be allowed to attend his side's IPL match at the Wankhede Stadium in Mumbai, Kolkata Knight Riders CEO Venky Mysore on Monday said the Bollywood star would be present at the ground "in spirit if not in person".
- 'Drunk' Shah Rukh abuses, attacks MCA officials at Wankhede
"He will always be there in spirit if not in person," was Venky's reply when asked how far the team's morale would be affected by Shah Rukh's absence.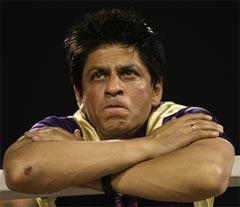 "So even if he is not there we know he is solidly behind us. Its always great to have him amongst us but there are other commitments also," Venky said.
Shah Rukh was banned for five years from entering MCA premises, including the Wankhede Stadium, on May 18 last year after he was involved in a skirmish with security staff and MCA officials following KKR's victory over the Mumbai Indians.
Shah Rukh, however, denied he had misbehaved, and maintained that he reacted only after children, including his kids, were "manhandled" by the security staff at the stadium.
MCA announced on Sunday that Shah Rukh's five-year ban stands and he will not be able to attend his team's IPL match against hosts Mumbai Indians at the Wankhede Stadium in Mumbai on May 7.
- 'Shah Rukh without any provocation hurled abuses at MCA officials'
"There is a clause in the agreement we are to sign with Mumbai Indians tomorrow that any person who has been debarred by the association cannot enter our premises. It's not specific to any single person," MCA Joint Secretary Nitin Dalal said.