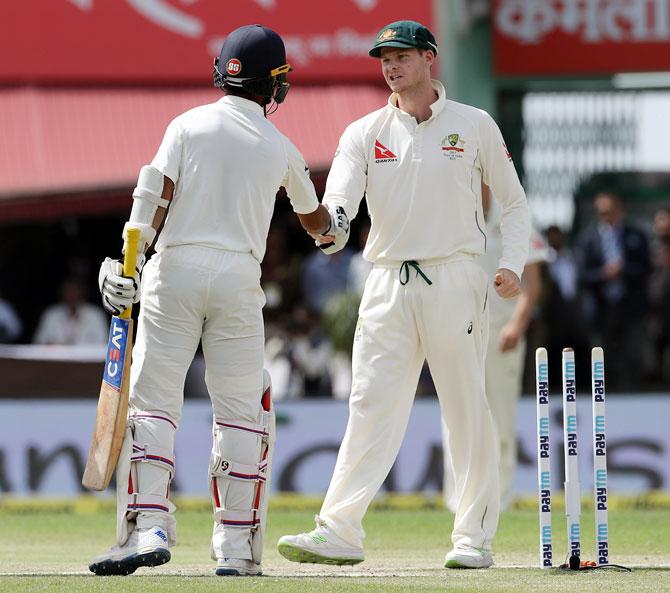 IMAGE: Australia captain Steve Smith, right, congratulates India skipper Ajinkya Rahane after the match on Tuesday. Photograph: BCCI
Australian captain Steve Smith reached out to Indian Premier League teammate Ajinkya Rahane and the Indian team, offering a round of beer after the end of the bitterly-fought Test series which the hosts won 2-1.
Smith, who apologised for letting emotions get the better of him throughout the series, also had a brief chat with India's stand-in captain Rahane after the game.
"I said (to Rahane) see you next week, he's in my team for the IPL," Smith told ABC Grandstand.
"I asked if he wanted us to come in for a drink being at the end of the series. He said he'd get back to me. With Ajinkya, we get on well. He's in my IPL team so I'll be with him for the next few weeks," he said of Rising Pune Supergiants teammate.
It's part of Australian culture to have beer with rival players once the contest is over.
While Smith was apologetic, rival captain Virat Kohli gave a fair indication that the hostility between the two teams would not end anytime soon by saying that he doesn't consider Aussies his off the field friends anymore.