Deccan Chargers [ Images ] leg-spinner Amit Mishra [ Images ] was on Wednesday officially warned for using offensive language during the Indian Premier League [ Images ] match against Rajasthan Royals [ Images ].
Rajasthan Royals, chasing a daunting 197 to win, beat Deccan Chargers by five wickets on Tuesday.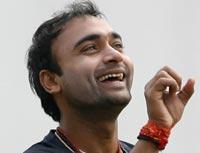 Mishra received an official warning and reprimand for the Level 1 offence (Article 2.1.4) of the use of offensive language.
"Mr Mishra admitted the offence and accepted the sanction," an IPL media release said.
In accordance with the IPL Code of Conduct and being a Level 1 breach, the Match Referee's decision is final and binding.