Deccan Chargers paceman Dale Steyn said the team was determined to shrug off two consecutive losses and win the remaining matches in the ongoing Indian Premier League.
Steyn, who played brilliantly against Mumbai Indians in Visakhapatnam, regretted having lost that game.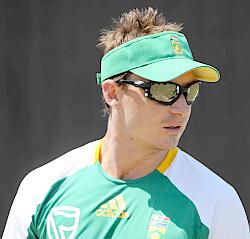 Steyn hoped the team can make a turnaround as 16 more matches are to be played yet.
Deccan batsman J P Duminy said the hosts should have started on winning note and expressed hope that they would do well in the coming matches.
Deccan Chargers lost to Mumbai Indians and Chennai Super Kings in the two matches held in the port city of Visakhapatnam.
Photograph: Lee Warren/Gallo Images/Getty Images